26 juin 2010
Cleopatra VII ( -69 / - 30 BC ) :
Most certainly the only Pharaoh of Egypt who would not allow depictions of herself from side view. She was famous during Antiquity for her bewitching beauty, but it's true that her nasal appendix was worth appearing in her mensurations.
Heiress to the throne, Cleopatra would be very soon at odds with her brother Ptolemy XIII , even more when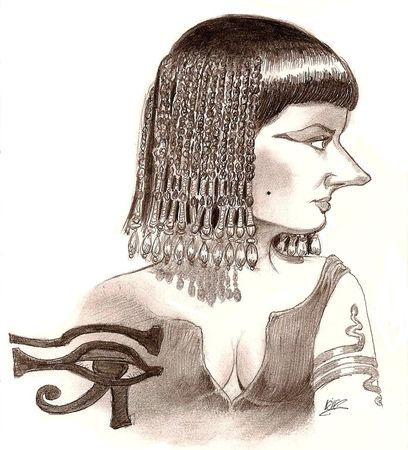 they married each other. The young woman would do anything
( and anybody ) to govern Egypt alone.
It started with the arrival of Julius Caesar, during his cruise on the Nile. Using her charms, Cleopatra gained his heart rapidly. Their relationship ended when he decided to go back to Rome, fearing to be 'assassinated'. But at the time, Caesar was thinking of his wife when he said that...
The tragic death of Ptolemy XIII, involving a passing crocodile, meant Cleopatra was henceforth Queen of Egypt. She moved on to a steamy liaison with Marc Antony, which enabled her to annex Syria, the south of Minor Asia and Cyprus to the Egyptian Kingdom, but also not to stay alone on saturday evenings.
Then things went bad when opponents to Marc Antony led by Octavian entered the city. Facing no alternative, she and her lover resorted to suicide. Cleopatra, for the dramatic effect, chose to kill herself with the bite of a snake on her breast. Some of the filthiest creatures on earth can turn out to be very lucky.
Mankind's fascination for this historical figure seems to have survived centuries, in spite of the fact that Cleopatra was never mummified. Well, anyway, her facial particularity would have made impossible the shutting of her sarcophagus...
Commentaires sur Taylor-made caricature